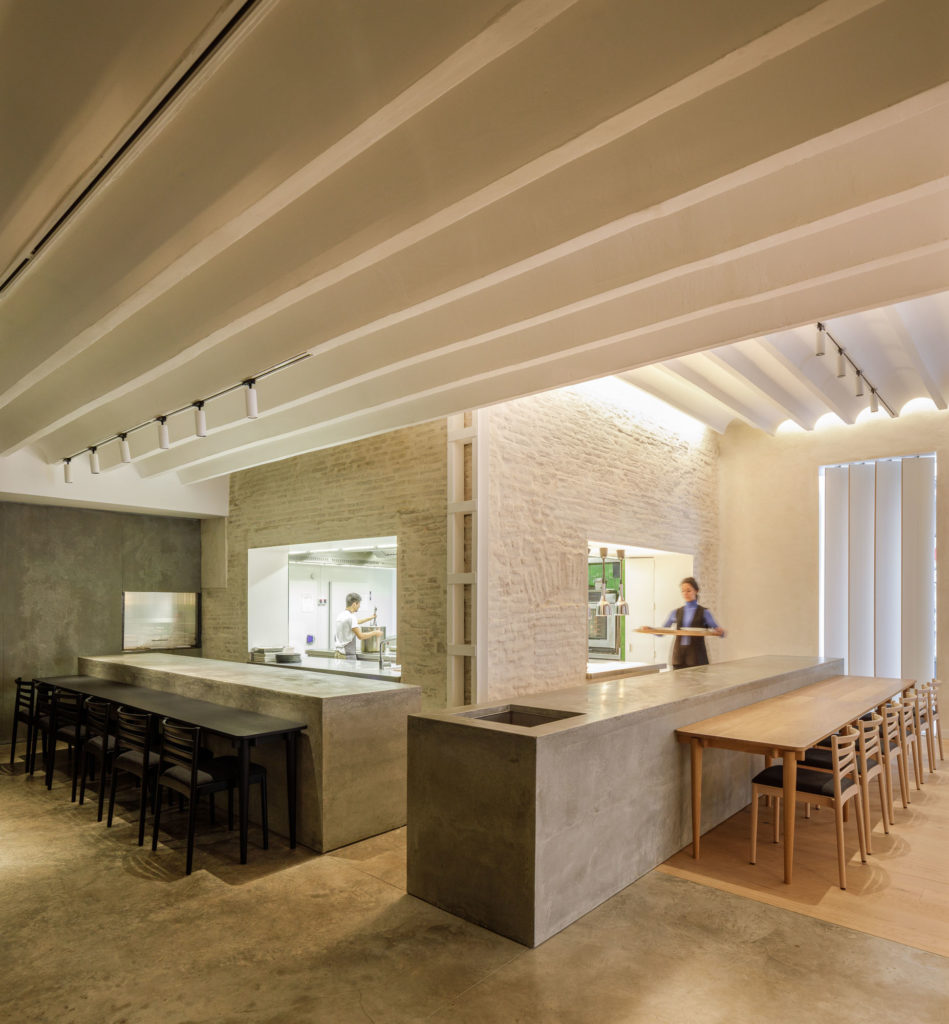 MERIDIONAL
Refurbishment of a locale for a culinary establishment
Ever since the Middle Ages, bread, wheat, wine and vegetables from the east of the province were brought in through the Puerta de Carmona gate, continuing on down the winding and bustling Calle Aguilas to the markets in the centre of Seville. In the middle of this historic gastronomic route, on the ground floor of a 17th-century building, a bright facade of white plated steel with vertical, top-to-bottom windows suggests, behind the hustle and bustle of the street, the calm that diners will find inside.
The Restaurante Meridional both draws upon and renews the traditional cuisine of Western Andalusia, combining, simply and delicately, only three ingredients. This tenet, which limits and concentrates its efforts in terms of the creativity and crafting of its combinations, also informs the functional, aesthetic and environmental decisions regarding its spaces.
Under the same white roof of semi-circular arches at dual heights and directions we find the eatery's public area, where a combination of concrete, wood and lime mortar form two settings in which customers enjoy the sensory experience of savouring fine food. The kitchen appears in the background, through two windows opened in the pre-existing brick wall, functioning as a tantalising showcase for diners to observe the culinary art in action.
Exposed concrete prevails at the entrance, and at the bar at the back, generating a more intimate and calming ambiance. Its stone and artificial materiality is expressed through the prismatic volumes of the most functional furniture: counter, cabinets, pantry, and bars, rounded out by stainless steel equipment and black furniture.
In the main area the handmade oak floor and furniture exudes warmth. Its relationship with the exterior is suggested through its changing set of textures, lights, and views provided by the pivoting windows of oak and white-enamel windows, which redefine the possibilities that latticework gave traditional Sevillian houses, providing both privacy and sunlight.
The industrial hardness of the concrete and the mechanical precision of the wood combine with the imperfect irregularity of the lime mortar applied to the walls, by hand. This material lines the spaces, creating a continuous backdrop on the load-bearing walls evoking the simple and organic interiors of Andalusian country houses, or cortijos.
Concrete, wood and lime mortar are combined with pure shapes and warm textures, like a delicate combination of fish, meat and vegetables on the plate.
author: Jose Luis Muñoz y CUAC Arquitectura (Tomás García Píriz / Javier Castellano Pulido)
location: Calle Aguilas 1, Sevilla.
client: Alegato Meridional S.L.
built area: 120.00 m2.
project date: 2019.
fotography: Fernando Alda
colaborathors: COTA 7 Arquitectos (Instalaciones), Álvaro Castellano Pulido (Arquitecto), Elena López Calvo (Arquitecta), 
               Aurelio Peñalver (Estructura), Nicolás Martínez Rueda (Estudiante de Arquitectura), 
               Stefan Schenkel  (Estudiante de Arquitectura), Panna Erhardts (Estudiante de Arquitectura) 
company construction: Guardiola y Churruca S.L.
cost: 105.500,00 Euros